PVTsim NOVA Trainning Course Held in AOHEDS
发布时间:2015-09-30 14:09
In 2015, Beijing Aoheds Technology Development Co., Ltd. has established the long-term cooperative partnership with Calsep. Mr. Adil Pottayil and Lay Tiong Lim from Calsep Asia Pacific Sdn. Bhd were invited by Aoheds to provide PVTsim training to the relevant specialists and engineers of Chinese petroleum industry within the basic process of EOS modelling and application of PVTsim, the course was from 21st September to 23rd September, 2015. Calsep was founded in 1982 and it is a specialist company within oil and gas properties and phase equilibria. Consulting services and PVT and flow assurance software are the main products. PVTsim is a PVT simulation software for EoS modeling of all kinds of fluids, as well as provide PVT calculation model for multiple petroleum software, its application areas cover reservoir, pipeline, processing engineering and laboratory.
The pictures below were taken during the Training :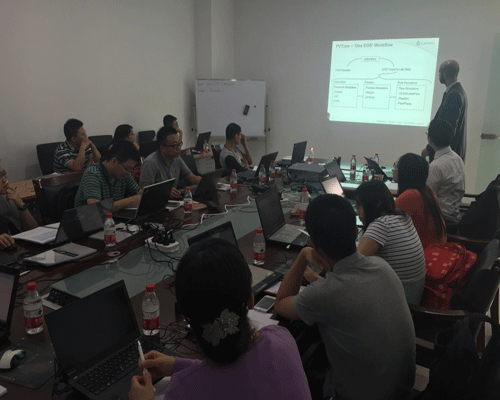 The three-days training was in Beijing Aoheds' head office. Reservoir engineers and flow assurance engineers from CNOOC Research Institute, SINOPEC Petroleum Exploration and Production Research Institute, COSL, etc. six companies attended the course. During the course, Mr. Adil Pottayil presented an introduction of Calsep and PVTsim, he and Lay Tiong Lim also explained basic principle of EoS, fluid simulation, establishing and tuning of EoS model, and EoS model exporting to other petroleum simulators, etc. Mr. Adil Pottayil also provided some demo of PVTsim simulation to show how to apply PVTsim more efficiently. The attendees made a lively discussion and asked a lot of questions within reservoir and flow assurance topics, and Mr. Adil Pottayil and Lay Tiong Lim gave very detailed answers on the questions.
Calsep's China trip is of great significance for the improvement of understanding and application of PVT simulation on reservoir fluid in domestic petroleum industry.