The world famous well integrity expert Tore Fjagesund and CNOOC Research Institute for technology exchange and training
发布时间:2015-09-01 14:49
In 2015, Beijing Aoheds Technology Development Co., Ltd. has established the long-term cooperative partnership with Wellbarrier AS, a world famous company with well barrier service. Wellbarrier AS is a leader in the field of well barrier in the world, the founders inaugurated the well barrier illustration principle and co-authorized the Norsok D-010 rev. 3 and rev. 4. Wellbarrier AS is the only one company which solely focuses on developing well integrity and well barrier illustration solution together with associated services, and its main product is Wellbarrier Illustration Tool – the unique software to make well barrier illustration according to the well integrity requirement. Mr. Tore Fjagesund was invited by Aoheds to attend some technical exchanges of the principle and technics within well barrier from August 17th 2015. Mr. Tore Fjagesund is a well-known specialist on well integrity and he has worked with well barriers and well integrity since 1998.
The pictures below were taken during the technical exchanges in CNOOC Research Institute: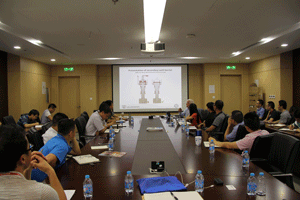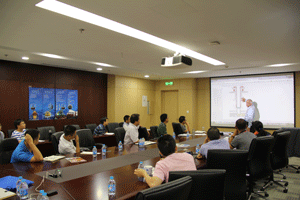 In the technical exchange meeting, Mr. Tore Fjagesund introduced the main standard and principle of defining well barrier of oil and gas wells in the world, the importance of application of well barrier illustration within well integrity management, and he demonstrated how to use Wellbarrier Illustration Tool. The leaders and engineers of CNOOC Research Institute made a lively discussion with Mr. Tore Fjagesund on well integrity and well barrier technology, Mr. Tore Fjagesund also answered a lot of questions about how to define the primary and secondary well barrier in detail. The meeting lasted nearly three hours, and the both sides benefit a lot from each other.
In the next three days, Mr. Tore Fjagesund provided training at Aoheads' headquarters. He explained how to define the well barrier correctly and how to apply Wellbarrier Illustration Tool to make the well barrier schematics efficiently, the attendees were engineers from Aoheds, CNOOC Research Institute and CNOOC Shenzhen Branch. In the training, Mr. Tore Fjagesund pointed out the problems or mistakes within the current well barrier schematics and how to adjust the schematics for the attendees. Mr. Tore Fjagesund also guided the attendees how to define primary and secondary well barriers on some specific operations.
Mr. Tore Fjagesund's China trip is of great significance for the improvement of understanding of well integrity and well barrier in domestic petroleum industry.